Snelle COVID-19-antilichaamtests en virale RNA-extractiekits beschikbaar
Aangezien de gevolgen van de SARS-CoV-2-pandemie wereldwijd toenemen, heeft de FDA een noodoproep gedaan aan organisaties om producten te ontwikkelen om de resulterende ziekte COVID-19 te bestrijden. Bij EpiGentek hebben we onze middelen en competenties, waaronder productie- en supply chain-mogelijkheden, gebruikt om de broodnodige COVID-19 / SARS-CoV-2-testkits in handen van gezondheidswerkers te brengen. Onze kits werden vergeleken met Biocredit, Panbio, Lepu, Vivadiag, Vivacheck, Tigsun saliva, Unscience, Elabscience, Leccurate, Rapigen, Accutell, Healthgen, InvBio Saliva.
Testkits maken deel uit van een cruciale toolset bij het beheersen en uiteindelijk verslaan van COVID-19. Met trots introduceren we onze eerste test, een snelle serologische kit die SARS-CoV-2-antilichamen identificeert in bloedmonsters, die gemakkelijk kunnen worden gebruikt door eerstelijnsgezondheidswerkers.
Ook blocking antilichaam testen werden vergeleken met Accutell om te kijken wie bescherming heeft opgebouwd na een geslaagde vaccinatie.
Het belangrijkste voordeel van het testen op antilichamen is dat men zowel huidige als vroegere COVID-19-infecties kan meten vanwege het feit dat antilichamen langdurigere indicatoren zijn in vergelijking met viraal RNA in de luchtwegen. Met name een indicatie van een eerdere infectie kan mogelijk aantonen wanneer patiënten natuurlijke immuniteit hebben opgebouwd en een tijdschema geven waarin de eerder getroffenen kunnen terugkeren naar school of het personeel om de economie in deze tijd van crisis te helpen verankeren. Er is onderzoek gaande naar de aard van SARS-CoV-2 en de effectiviteit van onze antilichamen met betrekking tot het stoppen van de verspreiding van het virus, maar serologische testen op antilichamen bieden een veelbelovend voordeel dat grotere gevolgen kan hebben voor de wereldwijde inspanning om dit te beteugelen. pandemie.
Combo testen met griep Flu en RSV zijn met Tugsun vergeleken.
---
SeroFlash ™ SARS-CoV-2 IgG / IgM-antilichaamdetectiekit
Dit vermelde apparaat heeft een Pre-EUA-nummer toegewezen gekregen en wordt momenteel door de FDA beoordeeld voor goedkeuring door de EUA.
Deze goedkope methode identificeert de aanwezigheid van IgG- en IgM-antilichamen van SARS-CoV-2 uit plasma, serum of volbloed, evenals bloedmonsters uit de vingertop. De eenvoud en snelheid van de procedure verminderen niet alleen de achterstand bij het testen door laboratoria, maar de snelheid zonder dat er speciale instrumenten nodig zijn, maakt het een ideaal hulpmiddel op het zorgpunt door gezondheidswerkers. Deze kit maakt gebruik van colloïdaal goud-immuuntechnologie door colloïdaal goud-gelabeld recombinant SARS-CoV-2-antigeen en een controle-antilichaam-goudmarker op het bindkussen te sproeien, die vervolgens wordt opgenomen in een testkaart die bestaat uit een plastic kaartvat en een teststrook papier voor gemakkelijk gebruik.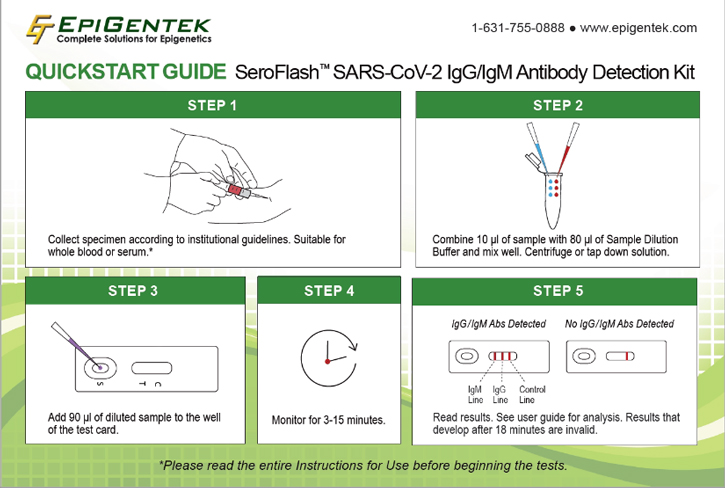 Een klinische studie met 128 bloedmonsters van 103 bevestigde COVID-19-patiënten en 25 gezonde personen toonde aan dat de geïntegreerde IgG / IgM-test in bloedmonsters een nauwkeurigheid van 97,78% kan detecteren voor patiënten met een infectieduur van 11-24 dagen , en een nauwkeurigheidspercentage van 84,48% voor patiënten met een infectievenster van 4-10 dagen. De totale nauwkeurigheid van positieve en negatieve correlatie voor een infectievenster van 4-24 dagen is 92,19%.
Snelle methode : verkrijg resultaten binnen 3-15 minuten zonder speciale instrumenten.
Zero Sample Prep : Detectie rechtstreeks uit plasma, serum of volbloed, evenals bloedmonsters uit de vingertop.
Twee-in-één : zowel IgG- als IgM-antilichamen worden tegelijkertijd gedetecteerd voor extra bevestiging, waardoor kosten worden bespaard ten opzichte van andere methoden die ze afzonderlijk detecteren.
Hoge gevoeligheid : 97,8% positieve testcorrelatie voor IgM-antilichamen bij patiënten met een infectievenster van 11-24 dagen; De totale nauwkeurigheid van zowel positieve als negatieve correlatie met IgG- en IgM-signalen is 92%.
Hoge specificiteit : 100% negatieve correlatie zonder kruisreactiviteit met andere menselijke coronavirussen, influenza A / B-virussen en vele andere virussen.
Vroeg detectievenster van IgM : Antilichamen kunnen al binnen vier dagen worden gedetecteerd terwijl ze symptomatisch zijn.
We bieden ook een screeningkit voor alleen onderzoek met hoge doorvoer, de SeroFlash SARS-CoV-2 IgG / IgM ELISA Fast Kit met de volgende voordelen:
Snel: de hele procedure kan in minder dan 45 minuten worden voltooid.
Hoge gevoeligheid: detectielimiet (LoD) kan zo laag zijn als 0,002 µg / ml SARS-CoV-2 IgG-antilichaam.
Hoge specificiteit: specifiek voor SARS-CoV-2 IgG en IgM, zonder kruisreactiviteit met veel andere virussen.
Precisie: Inter-assay ≤ 8%; Intra-analyse: ≤ 12%.
Flexibel: het strip-well-microtiterplaatformaat maakt de assay beschikbaar voor handmatige of high-throughput-analyse en maakt de detectie mogelijk van IgG of IgM alleen of zowel IgG als IgM tegelijkertijd.
---
Virale RNA-isolatiekits
Meet viraal RNA met een complete set geoptimaliseerde buffers en reagentia die geschikt zijn voor snelle bereiding van viraal RNA uit celvrije vloeistofmonsters, met name uit speeksel en nasale of nasofaryngeale uitstrijkjes.
Door het gespecialiseerde buffersysteem kan RNA binden aan de glasvezelmatrix van de spinkolom of aan magnetische korrels terwijl onzuiverheden efficiënt worden weggewassen en zuiver RNA wordt geëlueerd.
Er is zelfs steeds meer bewijs dat suggereert dat RNA-modificaties zoals m6A een rol kunnen spelen bij het helpen ontwikkelen van therapeutische interventies voor COVID-19 , waardoor RNA-isolatie een noodzaak wordt om deze potentiële doelen te begrijpen.

Totaal RNA geïsoleerd uit nasale uitstrijkjes met EpiQuik ™ Viral RNA Isolation Fast Kit en werd gebruikt voor RT-PCR-analyse. A: Nasofaryngeaal uitstrijkje monsters werden verrijkt met SARS-CoV-2-N positieve controle; B: Nasofaryngeaal uitstrijkje monsters werden niet verrijkt met SARS-CoV-2-N positieve controle. PCR werd verwerkt met behulp van primers en probes tegen SARS-CoV-2 N1 / N2 en menselijk RNase P-gen (interne controle).
Snelle procedure levert in totaal 10 minuten hoogwaardig totaal RNA op.
Gebruiksklaar RNA voor hoge prestaties in downstreamtoepassingen.
Consistente RNA-opbrengst uit een kleine hoeveelheid uitgangsmateriaal.
Snelle procedure levert hoogwaardig totaal RNA in 25 minuten op.
Hiermee kunnen monsters van klein formaat (> 30 basen) en groot formaat (<200 kb) worden geïsoleerd.
Handige bediening zonder centrifugeren.
Hoge doorvoer en snelle procedure maken levering van totaal RNA uit 96 monsters tegelijkertijd binnen 30 minuten mogelijk.
Hiermee kunnen kleine afmetingen (> 200 basen) en grote afmetingen (<200 kb) worden geïsoleerd.
Centrifugeren is niet nodig en geschikt voor robotbehandeling of automatiseringsopstellingen
---
Laboratorium diagnostische testfaciliteiten en klinische laboratoria dienen zo snel mogelijk contact met ons op te nemen via het onderstaande contactformulier, aangezien er op dit moment beperkte reagentia en productiecapaciteit zijn.
Om de strijd tegen de pandemie te ondersteunen, zullen we aanzienlijke kortingen op testkits aanbieden aan gekwalificeerde laboratoria.
Als u een laboratorium bent dat in staat is om diagnostische in-vitrotests uit te voeren of als u laboratoria in nood kunt aanbevelen, neem dan onmiddellijk contact met Lieven@gentaur.com